e-Learning
Bordeaux Montaigne University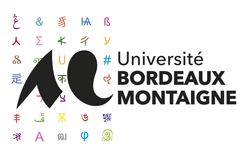 Michel de Montaigne University has been involved in Distance Education (FAD) for several years. It offers training designed by university teachers and validated by the same diplomas as face-to-face teaching. The contents of the training, the homework and their answers are accessible either on the Internet via the digital work environment (ENT) of the University of Bordeaux3 (Virtual Office), or by post (handouts).
Distance courses are offered by the UFR "Languages and Civilizations", "Humanities" and "Territory and Communication Sciences". But the models of other training courses also offer training parts through platforms such as Claroline or Moodle. It is the teacher's initiative to program his sessions (when prescribed by the model) on a tool of his choice.

These environments were used in our case to provide the following training:
UFR STC / ISIC - Institute of Information and Communication Sciences
Since 2016
Title of the teaching programs:
- Bachelors program:
Information techniques
Information research
Digital information systems
Data management
- Master's program:
Digital humanities
Hyper edition
Text Encoding Initiative (TEI)
Since 2005 : Department : School of Information and Communication Sciences & Applied languages department
Level : Bachelor & Master
Pedagogical method : 80% presence, 20% distance
The Virtual Office is a collaborative tool from Contact Office. It is chosen by the University Bordeaux Montaigne to allow access to educational resources and activities (course material, homeworks). The program includes various tools such as calendar, forum, documents share, mail ... ) to assist in the organization and communication with all students. The Virtual Office is available within the Digital Work Environment to all the University personnel (students, teachers and staff). It serves as a hub for training activity, socialization, information and communication. On an educational level, the virtual office has been operating since 2005 for the following functions:
Create groups of students enrolled in different levels of training,
Distribuer les supports de cours
Déposer les documents des TD qui sont réalisés par les étudiants pendants les séances de rencontre en pésentiel
Tutorer les projets des étudiants par les moyens de communication du BV : messagerie et Forums
Faire des annonces en asynchrones en direction des étudiants : dates des examens, résultats des épreuves d'évaluation, etc.
University Sorbonne Nouvelle Paris 3, depatrment of Digital distance learning (ENEAD)
2007 - 2015
Paris 3 Sorbonne La nouvelle University offers online trainings through an iCampus distance learning platform that allows students to find courses and communication tools in their personalized space (forum, chat, email, ...). A student is assessed with homeworks that he sends through the platform during his training and by a final table exam.
Among the online training offered by the Paris 3 University, the AIGEME Master (Computer Applications: Management, Studies, Multimedia, eTraining) aims to enhance the students skills trained in Human Sciences to prepare them for employment related with Multimedia, Open and Distance Training and especially intermediation between IT specialists and users in the field of institutional or corporate eTraining. The courses are given mainly online for students in France and abroad, in particular in the French-speaking world, by associating the tools of a platform (multimedia courses, forum, messaging, written and oral chat) and videoconferencing using synchronous and asynchronous courses.
Since its beginning, AIGEME Master has changed the technological base of its training tools several times. After the use of the WebCT platform, the Master is taught from 2011 using Moodle platform.
See French version